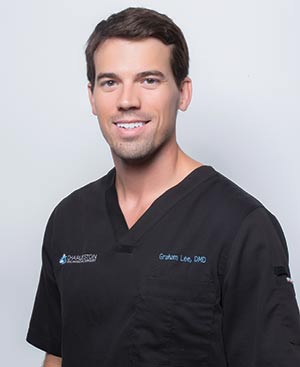 DR. D. GRAHAM LEE
Charleston Oral and Facial Surgery
Six Locations:
3070 N. Hwy 17, Suite 102, Mount Pleasant, SC
75 Baylor Drive, # 280, Bluffton, SC
125 Wappoo Creek Drive Building C, Suite 1, Charleston, SC
3700 Ingleside Blvd., Suite 101, Ladson, SC
2080 Royle Road, Summerville, SC
497 W. Butternut Road, Suite 201, Summerville, SC
843-762-9028
charlestonoralandfacialsurgery.com
People who have failing or missing teeth oftentimes suffer in silence with low self-confidence due to the embarrassment they feel when smiling. In addition, they may have a hard time chewing and enjoying their food or could even suffer from a speech impediment. Contrary to popular belief, there is a more permanent and reliable solution to this problem that does not involve dentures.
The guided full arch procedure can give patients who need to have certain teeth removed or who already have missing teeth a whole new, permanent smile.
Unlike dentures, full arch implant restorations are not removable. This is an option that will replace a full arch of missing teeth with permanent dental implants supporting a fixed bridge.
"This procedure is perfect for people who want to get their natural teeth back," said Graham Lee, D.M.D., at Charleston Oral and Facial Surgery.
The beauty of this procedure is that it is also known as the "same-day teeth, same-day smile," or "All-on-4" technique, according to Charleston Oral and Facial Surgery.
Along with improving a patient's smile cosmetically, it also improves the function.
"This procedure can change your life," Dr. Lee explained. "You are so ashamed to smile and you have a problem eating certain foods, and, then all of the sudden — in one day — you leave our office smiling ear to ear, and you will be able to eat the foods you missed."
Charleston Oral and Facial Surgery utilizes CT scans and intraoral scanners and cameras to see the bite and to take photos of the teeth.
"That data will help us plan the surgery ahead of time," Dr. Lee said.
He explained that this allows for a patient-specific plan and new teeth to be created prior to surgery, which will then be delivered all in one appointment.
And once the implants and new teeth are in place, you take care of them as you would take care of your natural teeth — with proper oral hygiene.
Probably the most appealing aspect of this procedure is the fact that it is permanent. "The alternative is dentures," Dr. Lee explained. "Many people do not want to contend with removing their teeth and the maintenance of dentures."
Traditionally, extensive bone grafting with even more implants would have been the other option for surgical treatment. Those procedures required longer healing time and would necessitate several appointments and/or surgeries.
The guided full arch procedure is all in one and provides almost immediate results.
Dr. Lee advised that patients do their research when choosing the right dental specialist to perform their guided full arch procedure.
"Do your homework and make sure you are picking a doctor that has experience utilizing the most accurate technology and techniques to allow for the best results," he advised.
It has been said that your smile is the first thing people see when they meet you. Consider a guided full arch procedure, and smile with pride.
By Theresa Stratford