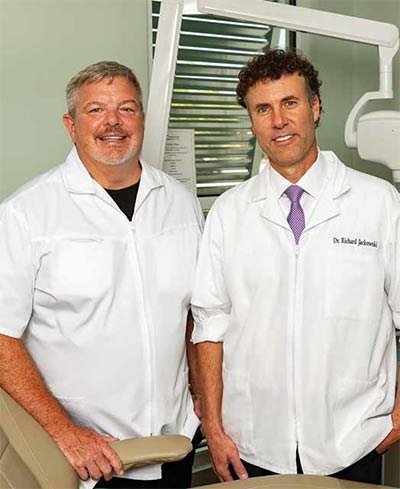 DR. RICK JACKOWSKI & DR. GREGORY JOHNSON
Pleasant Family Dentistry
1204 Two Island Court
Mount Pleasant, SC
843-881-8881
pleasantfamilydentistry.com
It is always cause for celebration when a successful business celebrates 30 years of providing a necessary service to the community. Pleasant Family Dentistry (PFD) co-owners, Dr. Richard (Rick) Jackowski and Dr. Gregory Johnson, have achieved this milestone through hard work, multiple treatment options, patient relations, assistance from a tremendous support staff and keeping current and active on the latest technology that allows patients to receive a myriad of treatment options and services.
Dr. Jackowski, raised on Long Island, New York, graduated from Syracuse University and attended dental school at the Medical College of Virginia. Relocating to Mount Pleasant in 1989, he and his wife, Krissa, along with their two daughters, Morgan and Kaitlyn, enjoy the yearround warm weather and outdoor activities. "Great public and private schools; close to the beaches; plenty of shopping and entertainment" were among the enticements that drew Dr. Jackowski to Mount Pleasant.
Dr. Jackowski continued, "Pleasant Family Dentistry constantly works on being thorough and delivering our services in a timely manner by a caring and compassionate team. We have created great internal systems to foster patient loyalty, and we constantly work on office culture that includes focusing on being problem solvers for our patients while being caring, motivating and positive. Our goal is to restore patients mouths with the highest-quality materials using the best technology."
Dr. Johnson hails from Virginia where he received his Bachelor of Science degree in biochemistry from Virginia Tech and his D.D.S. from the Medical College of Virginia. He relocated to Mount Pleasant in 1989 to start Pleasant Family Dentistry. He and his wife, Vicki, a chemical engineer, their two daughters, Caroline and Hannah, as well as their Yorkie, Isabelle, enjoy sports and travel.
"Our patients are our top priority. We are constantly looking at ways to improve the patient's experience at PFD," Dr. Johnson said. "We work on cultivating a caring and compassionate team so we can continue to give back to the community."
Among the comprehensive, quality dental care for the whole family for diagnostics and treatments are intraoral scanning, 3-D imaging and early caries detection with a non-radiation device.
The iTero Element intraoral scanner captures images to create 3-D images in minutes that allow for better chairside communication that helps patients visualize their new smile, as well as helps dental professionals create accurate dental models for restorative work, including crowns, veneers and implants. It also helps diagnose orthodontic problems and develop the best treatment plans.
The 3-D Cone Beam Computed Tomography (CBCT) scans provide maximufm image quality with the lowest radiation dose offering better images, more accurate findings and safer positioning for the patient. This scan moves dental imaging beyond pure diagnosis to include planned treatment simulations and image-guided treatments.
CariVu uses transillumination technology to expose early-stage cavities and offers patients more minimally invasive plans of care right away.
Congratulations to both Dr. Jackowski and Dr. Johnson.
By Eileen Casey