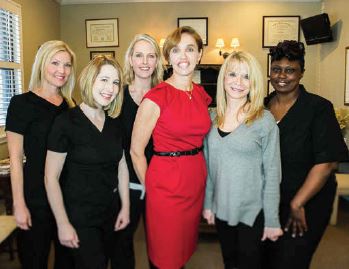 Heidi Williams, MD, a board-certified plastic and reconstructive surgeon, is affiliated with East Cooper Medical Center and Roper St. Francis Mount Pleasant Hospital and has been in practice in South Carolina since 2002. Well-known for both her surgical skills and compassion, Dr. Williams also is the medical director for the Mt. Pleasant Medi Spa. Located adjacent to her office, the spa offers a full range of services addressing skin care and aesthetic concerns.
Casting a nod to both Leonard Bernstein and Stephen Sondheim, Mt. Pleasant Medi Spa offers the highest level of services
and products that might just prompt clients to hum along to their own version of "I Feel Pretty."
The services are available to both women and men and
are professionally administered by a team of two staff aestheticians and one registered nurse. Some, but certainly not all, services include laser hair removal, skin resurfacing and tightening, photo rejuvenation, micro needling, chemical peels and microdermabrasion. A full range of skin care products for skin of all ages and types is also offered.
Mt. Pleasant Medi Spa provides skin care and aesthetic
services that complement the procedures performed by Dr. Williams. She combines artistry and science, whether it's a facelift, body contouring or breast surgery, and the Mt. Pleasant Medi Spa helps to maximize the surgical experience for those wishing to rejuvenate their looks or create a new look.
Dr. Williams graduated from Dartmouth College and
earned her medical degree at the George Washington University. While at GWU, Dr. Williams was exposed to the enormous potential the field of plastic surgery offered to patients to transform their appearance and their lives through exposure to such surgeries as cleft lip and palate repair and breast reconstruction, as well as a vast array of cosmetic procedures.
This fascination with plastic surgery continued
throughout her general surgery residency. After completing her plastic surgery residency, as well as additional fellowship training in burn care and microsurgery, Dr. Williams moved from Philadelphia to Mount Pleasant to begin her practice, which has grown to include Mt. Pleasant Medi Spa.
So if you'd like to "feel stunning and entrancing, [and] feel like running and dancing for joy," look into the healthy, helpful and hopeful opportunities and solutions offered by Dr. Heidi Williams and Mt. Pleasant Medi Spa.
Mt. Pleasant Medi Spa is located at 999 Lake Hunter Circle, Unit D, in Mount Pleasant. For more information, visit www.mountpleasantmedispa.com or call 843-375-0270.