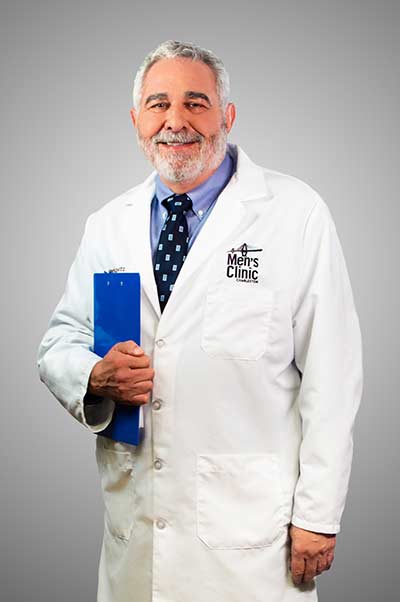 Not every man hopes to be named People Magazine's "Sexiest Man Alive," but most men wouldn't turn down the chance to feel better about themselves.
Enter Medical Director Dr. Stuart Markovitz, the "guyologist" of Charleston Men's Clinic, where he and an all-male staff treat only men in a private, relaxed, professional environment emphasizing patient education and shared decision-making. Combining traditional medical expertise with a variety of modern technological advancements, CMC offers concierge-level treatment with locker room frankness of conversation.
After decades of practicing internal medicine in the area of California known as Silicon Valley, Markovitz, like so many physicians in his generation, became increasingly unhappy working in an environment where medical group bureaucracies, insurance companies, "big pharma" and the government dominated and dictated the delivery of medical care. He finally had enough and decided to retire in 2014.
Retirement afforded him the opportunity to study areas of medicine that he was interested in but never had the time to pursue in depth. Over the next couple of years, he became highly knowledgeable in men's health issues, and when romance brought him to Charleston in 2016, he accepted the position as medical director of CMC.
But six months into his new job, after discovering the clinic was not realizing the financial return investment owners had hoped for — and talk of shutting it down ran rampant — Markovitz saw the opportunity to create something special, and he bought the clinic. With fierce dedication and desire, he forged a go-to facility for men that addresses issues largely ignored by most medical providers, extends medical services not routinely offered and provides evaluation and treatment of numerous health concerns and challenges.
Markovitz has tirelessly and diligently worked to achieve the respect of the medical community in the Charleston area and has become a trusted consultant who partners with local physicians in the care of their patients. In fact, many local health care providers are patients at CMC.
"You don't know what you don't know," Markovitz said. "Erectile dysfunction is not a diagnosis. ED is a symptom, and it's critical to find out what the underlying issues are in order to treat it effectively. Treatment with the 'little blue pill' alone is frequently just a band-aid, and providers and companies that prescribe and promote ED medications alone are doing men a great disservice."
Cleverly labeling himself as a "guyologist," Markovitz and staff specialize in erectile dysfunction, testosterone optimization, sexual performance, Peyronie's disease and premature ejaculation. CMC also focuses on cardiovascular health, diabetes, insulin resistance, prostate health and overall emotional well-being.
Medical aesthetic treatments are also available and include platelet-rich plasma for male-pattern hair loss; facial rejuvenation; JUVEDERM® fillers and "Bro-Tox;" truSculpt iD, which is radio frequency treatment that melts fat; and truSculpt flex, which is electrical muscle stimulation for muscle sculpting; among other services.
For more information on the Charleston Men's Clinic, call 843-410-5100, or visit www.charlestonmensclinic.com.