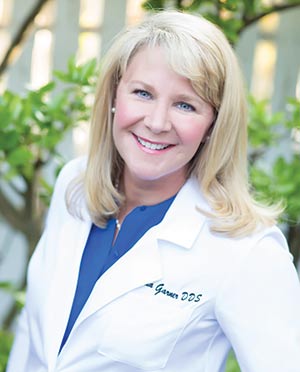 DR. CYNTHIA GARNER
Garner Family Dentistry
1059 Chuck Dawley Blvd.
Mount Pleasant, SC
843-884-6002
GarnerFamilyDentistry.com
Dr. Cynthia Garner has practiced dentistry in the Charleston area for 15 years and loves the people and the way of life here in the Lowcountry. As owner of Garner Family Dentistry, Dr. Garner and her staff have established a warm and friendly practice to serve the dental needs of the community.
Garner Family Dentistry prides itself on taking care of their patient families. "We love our patients and want them to feel special when they spend their valuable time with us. We know families are busy, so we want to ensure the experience with us is pleasant and as timely as possible."
Dr. Garner believes the key to providing excellent dentistry to patients is founded on outstanding dental education and continuously pursuing education. As a graduate of Creighton University School of Dentistry, she received an outstanding dental education from a nationally recognized university with a reputation for the highest performances possible on national dental boards. After Creighton, she was selected for the challenging Advanced Education in General Dentistry program at Temple University to further her expertise from highly trained instructors in Philadelphia.
In addition to an outstanding dental degree and specialty degree, she also pursues continuing education to ensure she knows the latest dental techniques. She spends 100 hours annually training with the best instructors in the U.S. at the Spear Center in Scottsdale, Arizona, and is a member at the local Spear Study Club.
Not only does Dr. Garner keep current with the latest techniques, she also ensures her entire staff is trained in the latest procedures and maintains the highest proficiency for dental techniques and safety compliance. "We maintain the highest sterilization rating by employing a professional monitoring company to ensure instruments and equipment are free of microorganisms," Dr. Garner stated.
Further explaining the top-notch quality of her practice, Dr. Garner said, "We also use state-of-the-art equipment to ensure accuracy of diagnosis and winning results for our patients. Our focus is on meeting the needs of our patients and going the extra mile to ensure they leave smiling. Whether they need a cleaning, filling, crown, veneers or implants — our patients have many options to improve their situation or enhance their smile."
Garner Family Dentistry's light-hearted environment and warm, friendly staff strive to create a fun, enjoyable experience for all — even those who might not wish to be at the dentist. By implementing the latest technology, Dr. Garner and her team are able to make any procedure as quick and pain-free as possible.
By Stacy E. Domingo