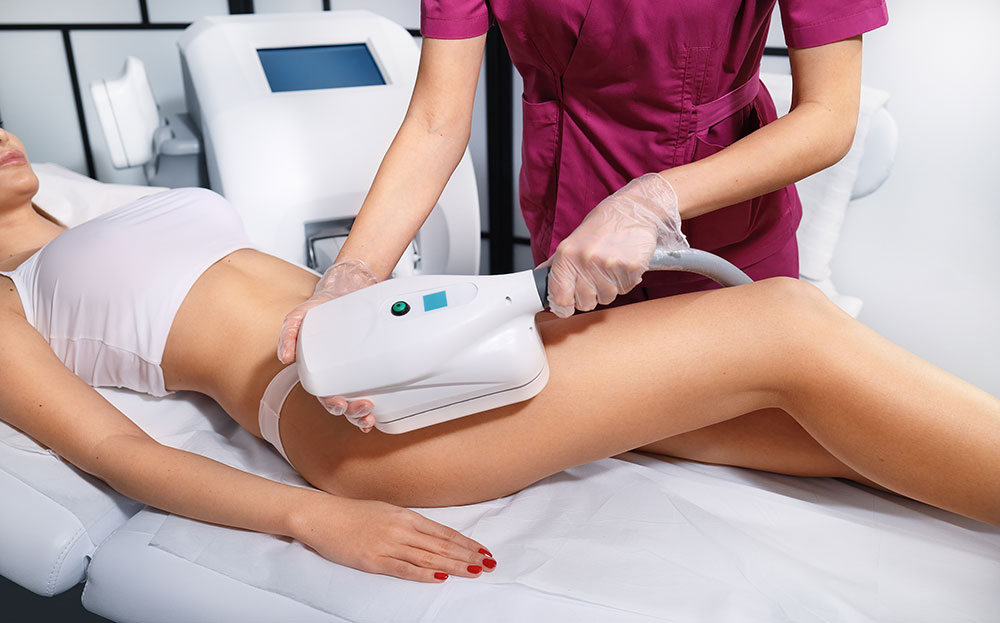 CoolSculpting is the newest med-spa trend in body makeovers. Its origins trace back to some popsicle-loving children in Massachusetts. There, Drs. Rox Anderson and Dieter Manstein, both affiliated with Harvard Medical School and Massachusetts General Hospital, identified a condition known as popsicle panniculitis. It seemed that repeated exposure to cold popsicles could destroy cheek fat and cause dimples to appear in the cheeks of certain children who were particularly passionate about popsicles.
After studying this phenomenon, the doctors concluded that a cold temperature of 40 degrees would destroy fat cells without harming the skin and other underlying tissue. The resulting procedure, known as cryolipolysis, or fat freezing, was born. The FDA approved CoolSculpting for the thighs in 2010 and for the stomach in 2012. Today, the procedure has been authorized for nine body locations including the chin and jaw area, upper arms, buttocks, back, sides and bra line.
According to Michele Hensel, the practice administrator and weight loss consultant at Lowcountry Plastic Surgery Center in Mount Pleasant, CoolSculpting is not a solution for weight loss. The fat cells that develop during childhood and adolescence can be permanently destroyed by this procedure, but new ones will grow to replace them if extra weight is gained and distributed around the body. For that reason, the ideal candidates should be at or almost at their best weight and committed to a healthy lifestyle. Otherwise, the rewards of body sculpting will be short-lived. Hensel said her clinic offers other excellent programs to help with effective and permanent weight loss.

She is also proud that Lowcountry Plastic Surgery Center was the first plastic surgery office in the Charleston area to offer CoolSculpting. Today, the majority of plastic surgery practices include some form of this fat freezing procedure, but Hensel cautions that not all equipment is created equal, and neither are all technicians. Dr. Jack Hensel Jr., owner of the Lowcountry Plastic Surgery Center, is an American board-certified plastic surgeon who personally delivers or supervises delivery of this procedure to his clients.
First, he meets with his patients to determine if CoolSculpting is the right treatment for them. While it is generally a safe process with few serious side effects, it is not appropriate for those with loose skin, poor skin tone, obese size or the following conditions: cryoglobulinemia, cold urticaria, and paroxysmal cold hemoglobinuria.
During a CoolSculpting procedure, clients may feel a pulling or tugging and an intense, cold sensation. Immediately following the application, the technician massages the treated area to break up deadened fat cells. This can be mildly uncomfortable. Then, for most folks, it is back to life as normal while the body begins to rid itself of the affected cells. The results of a CoolSculpting session will not be completely visible for three to six months from the last session, as it takes about that much time for the lymphatic system to absorb and discard the deceased fat cells.
When compared to liposuction, CoolSculpting offers some advantages, noted Hensel. Since the procedure is non-invasive, it is less risky and requires neither anesthesia nor down time. On the other hand, liposuction removes 70 to 90 percent of targeted fat and is ideal for bigger jobs, whereas CoolSculpting generally reduces fat by 20 to 25% and works best on smaller areas that one to three sessions can successfully address. Some clinics charge by the number of applicators used, others by the number of sessions. Fat freezing may or may not be cheaper than liposuction, but currently, CoolSculpting appears to be slightly more popular than liposuction, with over six million treatments performed worldwide.